I have been wanting to get out more, and spend time sketching some of the wonderful architectural treasures I have the luxury of living near.  A few weeks ago, I had the opportunity to spend a whole day at the Salk Institute in La Jolla with just my sketchbook and pencil.  Yes I took my camera too, and took some photos, but the point of spending my day there was to exercise my visual faculty in the slow, deliberative way that only freehand drawing brings.
Drawing forces you to study your subject, contemplate it, analyze its proportions.  You make decisions about what is important and what isn't.  You essentialize it — that is, you reduce it to its essence.
I started with some small, quick studies (click to embiggen).
Small thumbnail sketches are helpful in getting acquainted with the subject matter and its general proportions. Then I jumped to a bigger scale: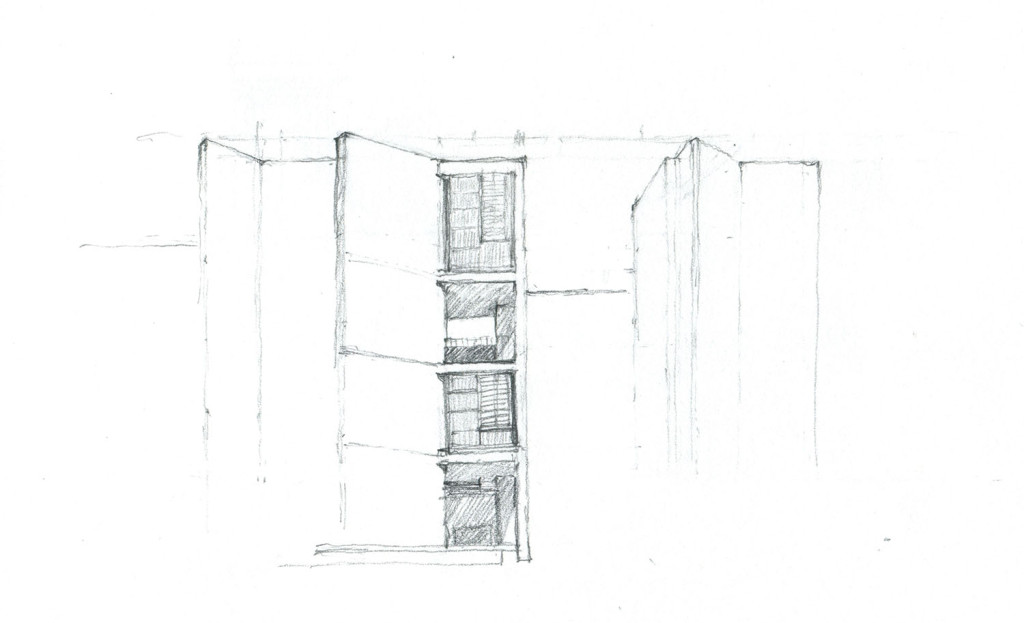 Then it was time for lunch. There's a cafe next door now, which is a relatively new development since the last time I was there (and a far cry from the first time I visited Salk in the early '90s when that area was still relatively undeveloped). After lunch I looked at another area briefly but it wasn't very satisfying and I didn't put as much effort into it:
Then I really settled down and tackled the complex area of stairs and vertical courtyards. The Salk is famous for its great, open central courtyard  with its view to the Pacific, but I'm in love with these other highly complex spaces that lie behind the blocks of scientists' studies that line the open central court.
For my last sketch, I returned to the central courtyard and re-examined my original subject matter after having had my eyes away from it for a while. I spent the rest of my time with the facade of the scientists' studies and its geometry.
I haven't done that much sketching in quite a long time, and it was a great day.
If you want to see some photos and other scenes from my adventures that day in La Jolla, you can check out my Instagram account (and follow me!) here:
http://instagram.com/architectearl
You can also follow Parson Architecture on Facebook here:
https://www.facebook.com/ParsonArchitecture
Sign up to get Parson Architecture blog posts in your email inbox here:
http://www.parsonarchitecture.com/signup
[Note: edited on 2/23/15. Images slightly reformatted.]